– the black sheep of the family –
Our bacon provides a taste of what bacon once was. Before refrigeration, families relied upon packing meat in a dry mixture of salt and sugar to pull moisture out of the meat as a way to preserve what they raised themselves for the times ahead. After a time, the residual dry cure was washed away and the meat was hung in a homemade smokehouse to be bathed in smoke from a fire of local hardwood. The result was a shelf-stable product, complex and rich in flavor. Over time, the bacon we buy at the store today has become a shadow of what the American family crafted themselves 100 years ago. The early American breeds of pigs were bred for fat and dark flavorful flesh.
They have been replaced with fast-growing, pale-fleshed versions—salt and sugar are injected (using water as a medium) directly into the meat causing shrinking slices of sizzling bacon, and smoke is applied via smoldering sawdust, or worse yet in artificial, liquid form. Many have never tasted that ancestral form of bacon that was commonplace before factories replaced it with the inferior substitutes produced today. And in that way, with all the bacon available to you today, this variety is truly the Black Sheep of the family — made with the finest pork from heritage breed hogs, still dry-cured, still smoked over a real hardwood fire, still the same bacon your great grandfather would remember.
"We use a special, dry-cured method for our bacon"
-Bill Strimbu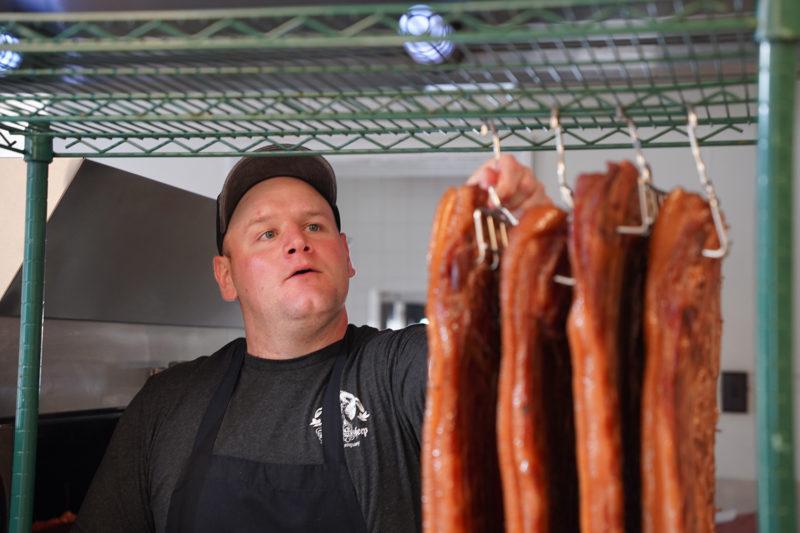 Bill Strimbu is one hell of a cook. He cooks lots of things, really well, but landed on bacon by accident when a friend asked him to smoke pork bellies from a 4-H pig. Two years later, he launched this company at the urging of friends and family who had become cult-like eaters of his bacon, and who'd convinced him that the rest of the world deserved to taste "real bacon."
We think Bill's success in creating the most unique bacon on the market is driven by his love of food, his obsession with perfection, his love of foraging and farm-to-table concepts, and the fact that he simply has one of the most refined palates anywhere.
Fun Facts:
Bill received his first smoker for his 21st birthday
He smoked brisket, pork butts and ribs for college parties
He graduated, worked at an environmental consulting job, then left because
the desk was stifling
He's perfected his bacon over the last two years and now says, "making
people happy with the food I create is the biggest reward in life"